Wells Police Department

---

ABOUT US
The Wells Police Department is busy protecting and serving the people of the Town of Wells around the clock. The department consists of a Patrol Division (which also includes an animal control officer and two K-9 units), a Criminal Investigation Division (CID) and a Communications Division (Dispatch).
The police department is the primary provider of law enforcement and related community service throughout the town's 62 square miles and hundreds of miles of roads. The department responds to over 20,000 calls for service yearly and makes thousands of traffic stops in an attempt to prevent tragedy and keep Wells' motoring public as safe as possible. The police department makes over 200 criminal arrests a year, ranging from simple assault to armed robbery.
The busy communications center dispatches for Police, Fire, EMS, Lifeguard and Highway. The center handles approximately 60,000 incoming telephone calls yearly, which include both routine business calls and emergency (generally 9-1-1) calls.
ABOUT OUR COMMUNITY
In our nation's eastern most Pine Tree State of Maine and its southern most county of York, is the town of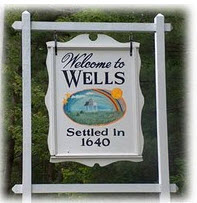 Wells, named for the cathedral city of Wells, in Somerset, England. Wells is a seacoast town. From Drakes Island to Moody the majestic marine shoreline sweeps in a crescent, bordering the mighty Atlantic Ocean with sandy beaches and rocky promontories. Behind the dunes a tidal river flows through the green and gold marshes and is met by many smaller streams, which originate inland among the forests and distant hills. Everywhere is found evidence of the last glacial age; in the stone walls of the pastures, the great boulders in the fields and forests, the bare scoured ledges and in the rocks along the shore. Here, in layer upon layer of rock, twisted out of the natural position by the great glacial force, is a record of the ages for all to see.