East Hempfield Township Police

---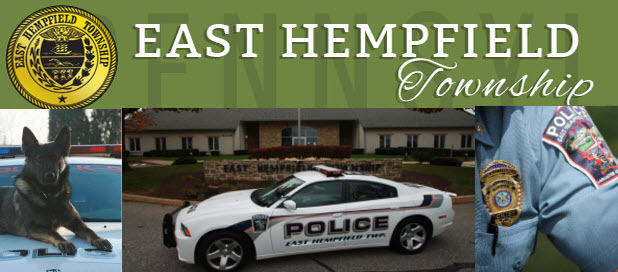 ABOUT US
The police department is divided into three Divisions: the Patrol Division, the Criminal Investigation Division and the Staff Services Division.

The Patrol Division is responsible for primary service delivery through the Division's four uniformed platoons. The platoons consist of five or six officers supervised by a Sergeant/OIC. The platoon personnel work a rotating twelve-hour shift. Officers work 2 to 3 twelve-hour days and then have two to three days off. Included in the uniformed platoons, are the K9 officer, bike patrol officers, motor carrier safety officer, SERT officers, and the School Resource Officer.

The Criminal Investigation Division is responsible for the follow-up investigation of crimes committed in East Hempfield Township. The Division is comprised of a Sergeant and three detectives. The primary function of the detective is to apprehend those offenders who escape arrest by the patrol division. Although our detectives are considered to be "generalists" and cases are assigned on an equitable basis, certain crimes are assigned to detectives who specialize in specific areas.

The Staff Services Division provides support services for the other functions of the police department. In addition to maintaining criminal history information, the staff records and maintains offense and accident reports, traffic citations, parking tickets and compiles the statistical information reported under the Uniform Crime Report. Staff also performs data entry and dispatching duties.
OUR GOALS
The main goal of the police department is to create and maintain a safe, secure environment for all East Hempfield Township's citizens. We strive to accomplish this goal through proactive community programs designed to prevent crime as well as efficient, thorough investigations of crimes committed.
OUR MISSION
The mission of the East Hempfield Township Police Department is to enhance the quality of life in our township by taking P.R.I.D.E. in our partnership with the community in working toward the goal of providing a safe and secure environment by enforcing the laws, deterring crime, preserving the peace, and reducing fear.
VALUES STATEMENT
PRIDE- We are committed to conducting ourselves in a manner that brings honor to ourselves, the department, the profession, and the township.
RESPECT-We are committed to respecting the individual rights, human dignity, and the values of all members of the community and the department.
INTEGRITY-We are committed to maintaining the public trust by holding ourselves accountable to the highest standards of professional conduct and ethics.
DEDICATION-We are committed to providing the highest quality of law enforcement service to the community with the goal of enhancing the quality of life within East Hempfield Township.
EXCELLENCE-We are committed to the highest standards of excellence achieved through on-going education, training, and the use of modern police equipment and techniques.